Jump to: Photos | Video | Setlist
It pays to be active on Facebook these days, on Wednesday November 24, 2010 I won 2x PL1 tickets to U2's second '360° Tour' Auckland show via Vodafone New Zealand's Facebook page. The tickets had a total retail value of $670.
So I put in for a half day leave for Friday afternoon, invited my workmate who was celebrating her birthday on Thursday 25 November. And before you ask, I had asked my wife but she wasn't too fussed with seeing U2 or having to organise a baby sitter.
Two sleeps and 1.5 days work later and I was signing off for the week and heading home to pack what I needed. Hat, sunscreen, camera and U2 mix CD for the drive. I left home around 1:15pm and did some last minute recycling, then passed the supermarket and picked up some snacks for the show and some V Energy Drinks for the drive home. Got around to my workmates house to pick her up and left Rotorua around 2pm.
The 220km drive to Mt Smart Stadium in Penrose, Auckland took around 2.5 hours as we bypassed Hamilton up State Highway 1B which connects Cambridge to Taupiri.
After finding a park just along from the stadium for $20, we walked along the road to McDonalds Penrose for a bite to eat before heading up to the Stadium. All I can say is that the service was amazing, despite being extremely busy, there were short queues. We waited 2mins before ordering and then waited only 60secs for our order. I've spent longer waiting at McDonalds Rotorua for a simple combo meal when there's been no queue.
There was a quiet excitement growing with every step up to the stadium, where I had to wait ages to get my complimentary tickets because Ticketek hadn't printed them off for the PL1 winners, only for the Red Zone winners so they knew nothing about my tickets. Thanks to a quick phone call to my Ticketek contact, we had them sorted in a jiffy.
With our tickets in hand, we had to walk around to gate 1, where they checked our bags. In my backpack I had a bottle of water and a large can of V energy drink. They said I couldn't take the screw cap on the water bottle into the stadium as I might throw a full bottle of liquid that could hurt somebody, and I had to drink the V before entering. So I chopped the V and scratched my head at having to take my lid off the water bottle.
Once inside my workmate purchased a couple of bottles of juice and a bottle of water. I said to the attendant, "I guess you'll have to remove the lids?" to which they said "No". Crazy huh? Where's the consistency there? I headed over to the merchandise tent and grabbed myself a U2 t-shirt with a nice large print on the front. I figured that since I'd saved $335 that I could splash out on a $50 t-shirt!
We went on to find our seats (Section 14, Row F, Seat 21 & 22) and settle in for the next 5 hours. Blown away by the sheer scale of the 'claw' stage setup, I started snapping some pictures. My workmate quickly calculated that there was 540 speakers throughout all the clusters of speakers hanging from the top of the claw, that's some hi-fi system!
As you'll see from the pictures and video below, the concert was totally amazing. By the end of the night, I thought to myself that I would have almost paid $300+ dollars for a great seat like we got. It was truly a spectacular show and would recommend the U2 360° Tour to anyone who's ever tapped their foot, hummed or whistled to a U2 song in their life.
We left the stadium after the first encore to miss traffic and could hear them clearly come back out and play their second encore as we walked down to our car. And fuck-me if the douche bag who took our $20 for parking hadn't jam-packed his small parking area with cars so it took a monumental effort from my workmate and I to navigate our way out of our park and the area with what felt like a 50 point shuffle!
We hit the road and got back on the motorway around 11:30pm. The U2 mix CD got a thrashing as did our voices, which along with the second V energy drink, kept me wide awake the whole way home. We got back into Rotorua at 2am, so was only out of town for 12 hours. It was an awesome road trip and the concert was fantastic!
Huge thanks to Kursten Shalfoon and Sarah Geel from Vodafone New Zealand for organising the Facebook/U2 promotion and for picking me and to Samantha Cameron from Ticketek for her help with the ticketing staff.
Photos from the concert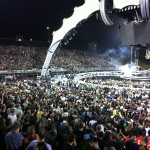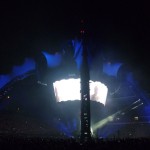 View, like and comment on these photos on Facebook.
Video recap of the entire concert
Set list
Return of the Stingray Guitar
Beautiful Day
New Year's Day
Get On Your Boots
Magnificent
Mysterious Ways
Elevation
Until The End Of The World
I Still Haven't Found What I'm Looking For
One Tree Hill
Angel Of Harlem
In A Little While
Miss Sarajevo
City Of Blinding Lights
Vertigo
I'll Go Crazy If I Don't Go Crazy Tonight (Remix)
Sunday Bloody Sunday
Scarlet
Walk On
Encore 1
One
Where The Streets Have No Name
Encore 2
Hold Me, Thrill Me, Kiss Me, Kill Me
With Or Without You
Moment Of Surrender
More information about this concert is available at the official U2 website, u2.com.