Just thought I'd share my luck in becoming one of 9 runner up's in a recent 'Love your Town' promotion to have a slogan designed and printed on t-shirts run by Air New Zealand's GrabaSeat and Billi Tees.
Jump to: Newspaper articles | Rotorua t-shirt design | Other t-shirt designs
My slogan was 'Pull My Finger' for Rotorua and was picked as a runner up from over 11,000 entires.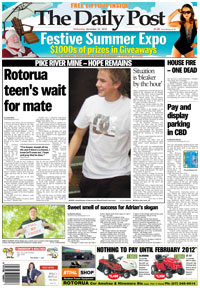 I wanted to put a light hearted slant on Rotorua's unique oder. Since lots of visitors to Rotorua 'comment' on the smell via Facebook and Twitter, and very few joke about the ability to blame the city for their flatulence, I thought 'Pull my finger' would be a perfect way to encapsulate that, to turn it around and just to have a laugh about it. It's just another thing that makes Rotorua unique!
I won a return trip for two adults to any airport in the Air New Zealand domestic network.
I've checked and will probably take my wife and kids to Queenstown.
Plus I get 5 t-shirts of my design, so look out for a photo of the DRTM team in these!
The new designs will be available on billitees.co.nz from Dec 1st and $5 from every one sold goes to a charity of each winners choice. I chose to donate my t-shirts proceeds to the Ronald McDonald Family Retreat here on the shores of Lake Rotorua.
Articles from The Daily Post


From front page of The Daily Post – Wednesday November 24, 2010. Read it online here.


From page A3 of The Daily Post – Saturday, December 4, 2010
The design, buy now!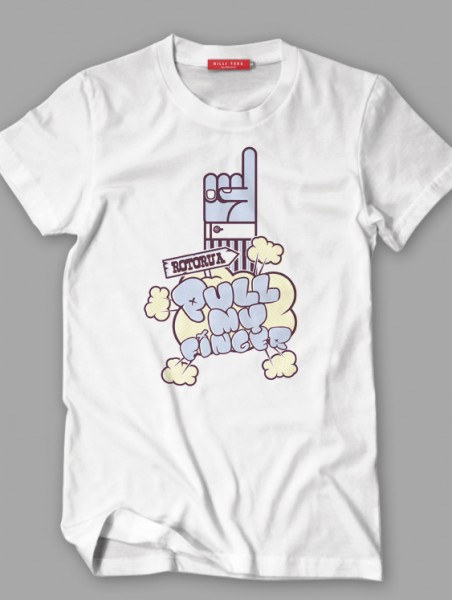 Order yours today from billitees.co.nz and remember that $5 from every t-shirt sold goes towards the Ronald McDonald Family Retreat here in Rotorua.
Other 'Love your Town' T-Shirt Designs